Comparing LG and Vizio TV features
9 min read
If you're in the market for a new TV, you may be considering LG and Vizio.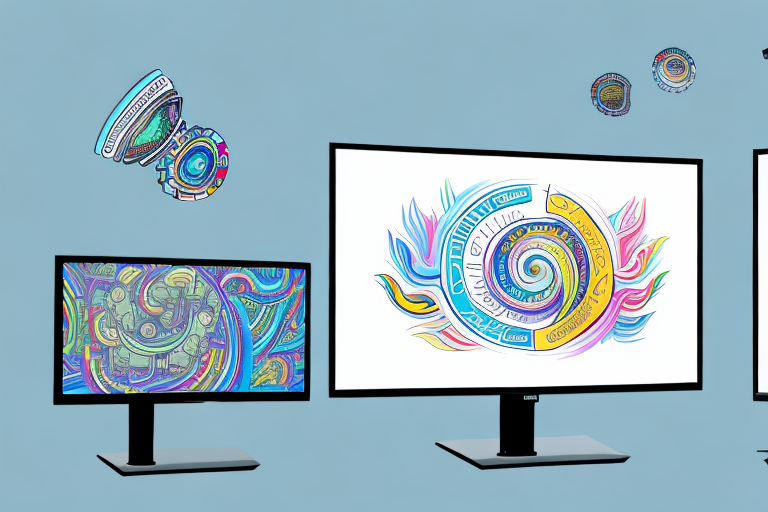 When it comes to buying a new TV, there are plenty of factors to consider. Two popular brands in the market today are LG and Vizio, which offer a wide range of models with varying features. In this article, we will take a closer look at both brands and compare their picture quality, viewing angles, smart TV platforms, gaming performance, audio quality, design and build quality, price, energy efficiency, customer support and warranty, user interface, durability, screen sizes offered and HDR capabilities. By the end of this article, you should have a better understanding of which brand is better suited to your needs.
Picture Quality: A Detailed Analysis of LG and Vizio TVs
When it comes to picture quality, LG has been consistently rated highly by experts and consumers alike. LG TVs come with OLED or Ultra HD 4K panels that offer exceptional levels of detail and color accuracy. The OLED panels in LG TVs produce perfect blacks and infinite contrast ratios, making them a good choice for movie lovers or those who play games with darker areas. LG's NanoCell technology uses tiny particles that enhance color purity to produce lifelike images. LG's Color Enhancer feature provides a natural and vivid experience, making every visual look vibrant.
On the other hand, Vizio has made significant progress in improving its picture quality over the years. Vizio TVs come in Ultra HD 4K resolution or full HD 1080p resolution. Vizio's Quantum Dot technology increases the color volume and produces brighter and more vibrant images. Their SmartCast feature enables you to stream 4K HDR content from various streaming platforms.
Overall, LG is the clear winner in the picture quality category as their OLED and NanoCell technology provide the most excellent viewing experience available in the market.
However, it's worth noting that Vizio's full-array local dimming technology is also a significant factor in their picture quality. This technology allows for more precise control of the backlight, resulting in deeper blacks and brighter whites. Vizio's ProGaming Engine also provides a smoother gaming experience with low input lag and variable refresh rates.
Another aspect to consider is the viewing angle. LG's OLED panels have a wider viewing angle, meaning that the picture quality remains consistent even when viewed from the side. Vizio's VA panels, on the other hand, have a narrower viewing angle, which can result in a loss of picture quality when viewed from an angle.
LG vs Vizio: Which Brand Offers Better Viewing Angles?
Viewing angles can have a massive impact on how you enjoy your TV, especially if you're in a household with many viewers. Both LG and Vizio have made significant strides in improving their viewing angle technology, but LG still reigns supreme. LG uses IPS panels that feature a wide viewing angle without any loss of color saturation. LG's OLED panels offer stunning viewing angles resulting in equally impressive contrast and brightness at any viewing angle. In comparison, Vizio's VA panels still struggle with viewing angles as some loss of color accuracy can be noticed when viewed off-angle.
However, it's important to note that LG TVs with IPS panels tend to have lower contrast ratios compared to Vizio's VA panels. This means that in a dark room, Vizio TVs may offer a better viewing experience due to their higher contrast ratios. Additionally, Vizio's Quantum Dot technology has improved their color accuracy and brightness, making their TVs a great option for those who prioritize these features over viewing angles.
Ultimately, the choice between LG and Vizio comes down to personal preference and priorities. If you prioritize wide viewing angles and color accuracy, LG is the way to go. However, if you prioritize contrast ratios and brightness, Vizio may be the better option for you.
The Battle of Smart TV Platforms: LG WebOS vs Vizio SmartCast
Smart TV platforms have the capability of taking your TV experience to the next level. LG's WebOS is one of the most user-friendly operating systems that make navigating through apps and settings a breeze. Its universal search function allows for more immersive content discovery, making it a hit among sports fans. On the other hand, Vizio's SmartCast operating system brings streaming content to your fingertips. It's an intuitive software interface that can run on any device, including smartphones and tablets. You can use your phone to control your TV, cast your screen to your TV, and access other features like Google voice search. Overall, both operating systems are great; however, if you want a more reliable and straightforward smart TV platform, then LG's WebOS is the way to go.
One of the key advantages of LG's WebOS is its ability to seamlessly integrate with other smart home devices. With WebOS, you can control your smart home devices, such as lights and thermostats, directly from your TV. This feature makes it easier to manage your home without having to switch between different apps or devices. Additionally, LG's WebOS has a built-in virtual assistant, which allows you to control your TV using voice commands. This feature is particularly useful for people with disabilities or those who prefer a hands-free experience.
On the other hand, Vizio's SmartCast operating system has a unique feature called WatchFree. This feature provides access to over 100 live TV channels, including news, sports, and entertainment, all for free. This is a great option for cord-cutters who want to save money on cable or satellite TV subscriptions. Additionally, Vizio's SmartCast has a built-in Chromecast, which allows you to cast content from your phone or tablet directly to your TV. This feature is particularly useful for people who want to share photos, videos, or music with friends and family on a larger screen.
Gaming Performance: Which TV is Better for Gamers – LG or Vizio?
If you're a serious gamer, input lag and refresh rates should be on your radar. LG's OLED TVs provide a fantastic gaming experience, with low input lag and quick refresh rates. LGs NanoCell technology also offers a fast 120Hz refresh rate with low input lag, making it an ideal setup for any gamer with a compatible console or PC. Vizio, on the other hand, offers low input lag, but their top models offer a lower refresh rate than LG TVs.
In summary, LG is the clear winner when it comes to gaming performance. The fast refresh rate and low input lag in LG OLED and NanoCell TVs are sure to provide gamers with an unparalleled experience.
Audio Quality: Comparing the Sound Features of LG and Vizio TVs
TV audio quality is often overlooked when shopping for a new TV. However, it's just as critical as picture quality. LG and Vizio both offer excellent audio for their premium TV models. LG's OLED technology enables the company to integrate speakers and subwoofers directly into the bezel, creating a larger audio experience that makes its TVs a virtual sound system. Vizio, on the other hand, packs its higher-end models with built-in 5.1-channel soundbars with Dolby Atmos support that deliver an immersive cinematic experience. Overall, both brands offer impressive audio features that enhance the overall viewing experience.
Design and Build Quality: A Comprehensive Comparison between LG and Vizio TVs
TV design and build quality are important because it influences how your TV will look in your home and how long it will last. LG TVs come with slim bezels that provide an expansive screen experience, and their ThinQ AI technology enables voice control. LG's NanoCell technology uses premium materials that result in a sturdy and well-built TV. In contrast, Vizio TVs may not have the same level of style and sophistication in their designs, but they remain a solid choice in terms of build quality and durability.
While LG takes the edge when it comes to design, Vizio scores high with the durability and sturdiness of its TV models. Both brands have their unique features that cater to different needs.
Price Comparison: Which Brand Offers More Value for Money – LG or Vizio?
In terms of affordability, Vizio is the better choice. The brand has long been known for offering ample features at competitive prices, making it an excellent value-for-money investment. Vizio's lower price point becomes more attractive when you consider that LG's premium models can be quite pricey. However, LG offers premium features at a premium price point, making it a worthwhile investment for those who want the best.
Energy Efficiency: Which TV Consumes Less Power – LG or Vizio?
Efficiency is becoming an increasingly essential factor to consider, and LG has made notable progress in the area. LG TVs come with energy-saving modes that can help reduce power consumption when needed. LG TVs also come with smart features that ensure the TV will shut off after inactivity.
Vizio is also up there with its energy efficiency. The brand's new models come equipped with an "Auto Power Off" feature that saves energy, reduces your electric bill, and introduces peace of mind. Overall, both brands help you save on your electricity bills but LG TVs come with more flashing technology to reduce energy consumption.
Customer Support and Warranty: How Do LG and Vizio Compare?
Both LG and Vizio offer excellent customer service and warranty options. LG has long been known for providing quality customer support, while Vizio's customer support services are on par with industry standards. LG offers a standard manufacturer's warranty for one year and provides repair services for an additional five years, while Vizio TV's come with a standard one-year warranty with the option of extending the warranty to three years.
User Interface Comparison – Which is Easier to Use, LG or Vizio?
Both LG and Vizio offer intuitive and user-friendly interfaces. LG's WebOS operating system is easy to navigate, with menus that guide new users through the setup process. LG's Magic Remote provides voice control that makes using their TVs even simpler. Vizio's SmartCast user interface uses apps for easy navigation and streaming platform access. It also enables users to cast content from their smartphones and other devices to the TV screen. Overall, both interfaces are easy to use, and your choice will depend on your preferences.
Durability Test – How Resilient are the TVs from LG and Vizio?
Both LG and Vizio TVs are designed to be durable and last many years. LG TVs use premium materials that ensure longevity and can withstand minor impacts. On the other hand, Vizio TVs feature solid and sturdy construction to prevent breakage and can also withstand some impacts.
Screen Sizes Offered by LG and Vizio – Making the Right Choice.
LG and Vizio offer a wide range of screen sizes to choose from, depending on your needs. LG TVs come in sizes ranging from 32 inches to 86 inches, while Vizio TVs are available in sizes ranging from 24 inches to 75 inches. For those with limited space, either brand provides options to cater to their space.
HDR Capabilities – Which Brand Has the Best HDR Technology, LG or Vizio?
When it comes to HDR, both LG and Vizio offer impressive capabilities. LG's OLED TVs come with HDR technology that offers deeper blacks and clearer highlights, resulting in beautiful contrast. LG's NanoCell technology also enables a 10-bit color depth and wider color gamut, making their HDR experience colorful and lively. Vizio's P-Series Quantum and P-Series Quantum X offer the brightest HDR performance, with its Quantum Dot technology providing richer colors with a dynamic contrast.
Overall, both brands are competitive when it comes to HDR, although LG's OLED's deeper blacks and clearer highlights give them the edge.
Conclusion: Which Brand Offers Superior Features Overall – LG or Vizio?
Both LG and Vizio offer an array of features and quality TV models that cater to different needs. LG is undoubtedly superior when it comes to picture quality, viewing angles, gaming performance, and design, but with a higher price point. Vizio takes the lead when it comes to value for money, energy efficiency, and affordability. Ultimately, the choice between both brands depends on your needs and preferences.
At the end of the day, LG and Vizio are both excellent brands that offer premium quality TVs with a great mix of features, affordable prices, and sturdy builds. Whichever brand you choose, be sure to choose a model that caters to your specific needs and has a warranty that ensures that your TV provides you with the best viewing experience possible for years to come.