Comparing LG and Samsung smartphone features
9 min read
Discover the key differences between LG and Samsung smartphones in terms of features, performance, and design.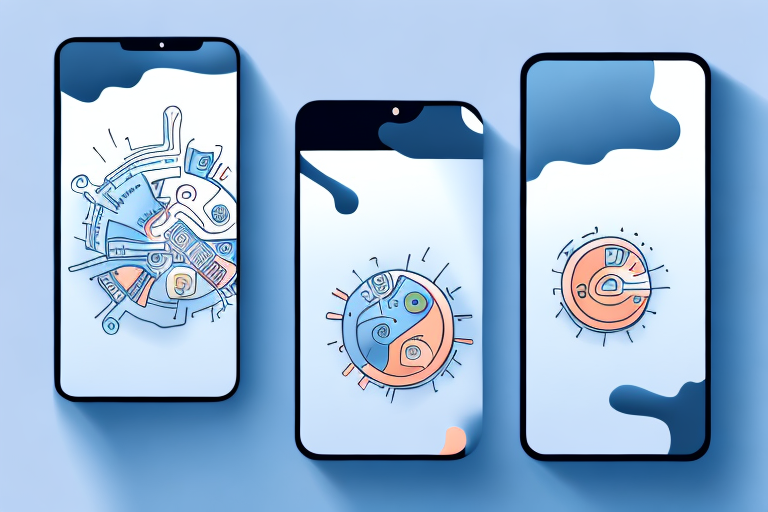 When it comes to smartphones, LG and Samsung are two of the biggest players in the market. They offer a wide range of features and specs, making it difficult for consumers to decide which one to go for. Here, we will be taking a comprehensive look at the features of LG and Samsung smartphones, to help you make an informed decision. Whether you are looking for a phone with great design, display, camera, or battery life, we've got you covered.
Design and build quality comparison between LG and Samsung smartphones
LG and Samsung offer smartphones with sleek and modern designs. Samsung has always been known for its premium designs, using high-quality materials such as glass and metal. On the other hand, LG has also been catching up in recent years, with its flagship models featuring smooth glass back panels and metal frames. Both brands have also incorporated water resistance and dustproofing features, making their phones durable and long-lasting.
However, Samsung seems to have an edge when it comes to design. Their phones have become sleeker with each release, and the Galaxy S21 series is a testament to that. It has a slim profile, minimal camera bump, and a vibrant color palette. LG's latest phone, the LG Velvet, is also a great contender in terms of design, but Samsung's attention to design detail is unmatched.
In terms of build quality, both LG and Samsung have proven to be reliable brands. Samsung has been known to use Corning Gorilla Glass for their phone screens, which is highly durable and scratch-resistant. LG, on the other hand, has been using MIL-STD-810G military-grade certification for their phones, ensuring that they can withstand extreme temperatures, humidity, and shock.
Another aspect to consider is the placement of buttons and ports. Samsung has been criticized for placing the power button too high on their phones, making it difficult to reach for some users. LG, on the other hand, has been praised for placing the fingerprint scanner on the back of their phones, making it easy to access and use.
Display technology – a key differentiator between LG and Samsung phones
If you're someone who is particular about display quality, you'll be interested to know that LG and Samsung have taken different approaches to display technology. Samsung uses its Super AMOLED displays in most of its smartphones, which provides deep blacks, vibrant colors, and excellent contrast ratios. LG, on the other hand, mostly uses OLED displays in its smartphones, which also provides vivid colors and deeper blacks, but with a more natural color palette.
Samsung has also introduced its Dynamic AMOLED displays, which supports HDR10+ and provides stunning picture quality. LG's OLED technology is not far behind either; the company's latest phone, the LG Wing has a unique rotating display design that's not only functional but also provides an immersive viewing experience.
Another key difference between LG and Samsung's display technology is the aspect ratio. Samsung's smartphones typically have a taller 18.5:9 aspect ratio, which is great for watching videos and browsing the web. LG, on the other hand, has opted for a wider 18:9 aspect ratio, which provides a more cinematic viewing experience for movies and TV shows.
It's also worth noting that LG has been experimenting with flexible displays, which could potentially lead to foldable smartphones in the future. Samsung has already released its Galaxy Fold and Galaxy Z Flip foldable phones, but LG's flexible display technology could offer a different take on the concept.
Processor speed and performance of LG vs Samsung smartphones
Both LG and Samsung offer high-performance smartphones that cater to different needs. The Samsung Exynos and Qualcomm Snapdragon processors are widely used in Samsung smartphones, while LG's latest phones use Qualcomm Snapdragon processors, which provide a seamless user experience and fast app launching. Samsung's processor is slightly faster than LG's, but the difference can only be felt when running intense applications or high-end games.
However, LG smartphones have an advantage over Samsung in terms of battery life. LG phones are equipped with larger batteries, which can last longer than Samsung phones with similar specifications. Additionally, LG phones come with power-saving features that can extend battery life even further. This makes LG phones a better choice for users who prioritize battery life over raw processing power.
Software and user interface comparison of LG and Samsung phones
Software and user interface have become crucial elements in choosing smartphones. Samsung's One UI, and LG's UX 9.0 offer unique looks and features. Samsung's user interface is considered to be more aesthetically pleasing, with its icons and layout being more user-friendly. On the other hand, LG's UX prioritizes functionality and customizability over appearance. It provides users with more control over their phone's settings, making it easier to personalize and streamline their use.
Samsung One UI also offers useful features such as split-screen mode, one-handed use, and dark mode. LG's UX has similar features with a focus on multitasking. Both software are well optimized, and you can expect smooth and seamless performance on both LG and Samsung smartphones.
However, when it comes to software updates, Samsung has a better track record than LG. Samsung is known for providing timely updates to its devices, including security patches and major Android updates. LG, on the other hand, has been criticized for being slow in providing updates, especially for its mid-range and budget devices.
Another factor to consider is bloatware. Samsung is notorious for pre-installing a lot of apps on its devices, which can take up valuable storage space and slow down the phone's performance. LG, on the other hand, has a more streamlined approach to pre-installed apps, with fewer unnecessary apps taking up space on the device.
Camera features – how do LG and Samsung compare?
Cameras have become one of the primary features of smartphones. Both LG and Samsung offer camera setups that suit different needs. Samsung has made significant improvements in camera technology, with its latest series, the Galaxy S21, offering up to four rear cameras. Samsung's cameras have high megapixel counts, providing excellent photo quality even in low light conditions. They also support features such as Optical Image Stabilization (OIS) and 8K video recording.
LG's latest phones, the LG Wing and LG Velvet, come with a triple-camera array that provides great camera performance. LG's camera setup has a large aperture, which helps capture more light, resulting in better photos. The phone also supports manual camera controls, allowing users to fine-tune their photos to their liking.
However, when it comes to video recording, Samsung's cameras have an edge over LG's. Samsung's cameras can record 8K videos at 24 frames per second, while LG's cameras can only record 4K videos at 60 frames per second. Samsung's cameras also have better video stabilization, making it easier to capture smooth footage while moving.
Battery life comparison between LG and Samsung smartphones
Battery life is an essential factor to consider when buying a smartphone. Samsung and LG both offer phones with good battery life, but they use different battery technologies. Samsung has been using its Super-fast charging technology, providing fast charging times and long-lasting battery life.
LG's recent phone, the LG Wing, also has a large battery capacity, and it offers wireless charging and fast charging capabilities. The LG Velvet, on the other hand, provides fast charging but lacks the wireless charging feature.
It's important to note that battery life can also be affected by the phone's usage and settings. For example, using power-hungry apps or keeping the screen brightness at maximum can drain the battery faster. Both Samsung and LG offer power-saving modes that can help extend the battery life. Samsung's Ultra Power Saving Mode and LG's Battery Saver Mode can limit background activity and reduce screen brightness to conserve battery power.
Storage options and expandability of LG vs Samsung phones
Both Samsung and LG offer smartphones with storage options that cater to different needs. Samsung provides high storage options, with the S21 Ultra providing up to 512GB of internal storage. Interestingly, Samsung has also reintroduced expandable storage, allowing users to add up to 1TB of additional storage using a microSD card.
LG also offers its latest smartphones with a decent amount of internal storage, with the LG Velvet providing 128GB. However, the company's devices lack expandable storage, so you'll need to choose a storage capacity that best fits your needs.
It's worth noting that while Samsung's expandable storage option is a great feature, it's not available on all of their devices. For example, the Galaxy Z Flip and Galaxy Z Fold2 do not have a microSD card slot, so users will have to rely solely on the internal storage.
On the other hand, LG's latest smartphones come with a unique feature called "Dual Screen," which allows users to attach a second screen to their device for multitasking. This feature may be particularly useful for those who need to work on multiple apps simultaneously or want to watch a video while browsing the web.
Connectivity features – which one offers more?
When it comes to connectivity, LG and Samsung both offer 5G support in their devices, catering to the latest network technology. Apart from this, Samsung's smartphones have Samsung DeX, a desktop software that turns your phone into a desktop computer. It also has Samsung Pay, a convenient payment platform that lets you pay with your phone. Meanwhile, LG doesn't offer these features, but it has a feature called Dual Screen, which allows you to connect a second screen to your phone, providing a large and immersive experience.
Additionally, Samsung devices also come with Bixby, a virtual assistant that can help you with tasks such as setting reminders, making calls, and sending messages. On the other hand, LG devices have Google Assistant, which offers similar features and can also integrate with other Google services such as Google Maps and Google Calendar. Ultimately, the choice between Samsung and LG devices will depend on your personal preferences and needs.
Audio features – sound quality comparison between LG and Samsung phones
Audio features have also become essential features of smartphones. Samsung and LG both offer phones with excellent audio quality. Samsung's latest flagship models feature Dolby Atmos support, providing immersive audio experiences. LG, on the other hand, has partnered with Meridian Audio, a renowned British audio company, to provide high-quality audio in their phones.
LG's latest phone, the LG Wing, also features a unique feature called ASMR recording, which provides immersive audio experiences for those who enjoy ASMR content.
Price range analysis – which is more affordable, LG or Samsung?
When it comes to pricing, LG and Samsung offer smartphones that cater to different budgets. Samsung's latest phones, the S21 series, are considered to be on the higher end of the market and are priced accordingly. LG's latest phones, on the other hand, are considered to be mid-range devices, catering to people who want high-quality smartphones but don't want to break the bank.
User reviews – what do users have to say about LG vs Samsung smartphones?
User reviews play a significant role in purchasing decisions. Looking at user reviews online, Samsung smartphones have been praised for their premium designs, high-quality cameras, and overall excellent user experience. LG's latest smartphones have been lauded for their unique features, innovation, and affordability.
Final Thoughts
After examining the features of LG and Samsung smartphones, it is safe to say that both brands have a lot to offer. Whether you're looking for design, display, performance, or camera quality, you will find something that suits your needs in either brand. Samsung might be the go-to option for someone who wants a premium device with a unique design, while LG might be more suitable for those who want more innovation and affordability. Ultimately, the decision depends on your preferences and what you value the most in a smartphone.