Comparing Apple and Microsoft tablet models
9 min read
Discover the differences between Apple and Microsoft tablet models in this comprehensive comparison article.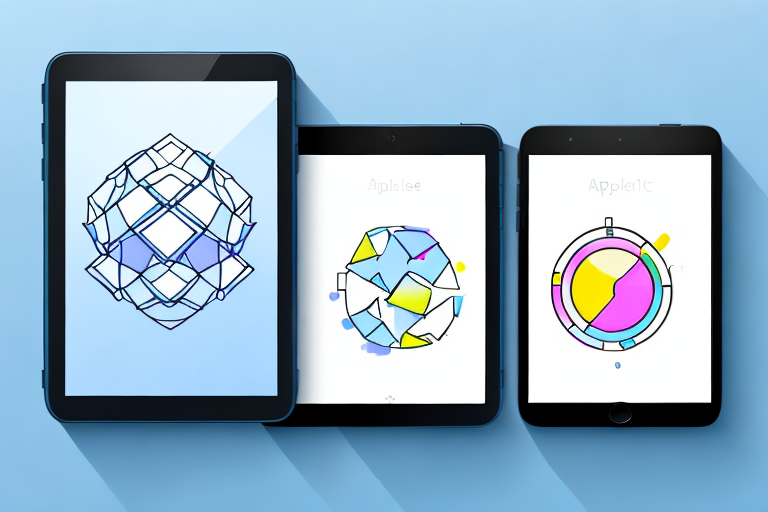 The world of tablet computing has seen some fierce competition in recent years, with Apple and Microsoft leading the way with their highly acclaimed tablet models. These tablets have evolved to offer more than just mere browsing capabilities but have become productivity machines as well. In this article, we will compare the design, display quality, performance, battery life, pricing, operating systems, app stores, productivity features, gaming capabilities, camera and audio features, user interface, and support and security features of both Apple and Microsoft tablet models. We will conclude with a final verdict on which tablet model reigns supreme.
Design and Build: Apple vs Microsoft Tablets
Apple is known for its sleek and slim designs, and this is no exception in their tablets. The iPad is a minimalist device that emphasizes simplicity and ease of use. The current iPad pro models sport a thin bezel design that offers more screen real estate. On the other hand, Microsoft Surface tablets have a more traditional laptop design, with a detachable keyboard. This makes it easier to type for extended periods of time. The Surface tablet's built-in kickstand design and support for multi-angle adjustments make it easier to position the tablet for different uses. However, the Surface tablet's keyboard means it's bulkier compared to the iPad, making it less portable.
Another key difference between Apple and Microsoft tablets is their operating systems. Apple's iPad runs on iOS, which is a mobile operating system designed specifically for Apple devices. This means that the iPad has a more streamlined and intuitive interface, with a focus on touch-based interactions. On the other hand, Microsoft's Surface tablets run on Windows 10, which is a full-fledged desktop operating system. This means that the Surface tablet can run desktop applications, making it a more versatile device for productivity and creative work. However, the desktop interface can be less intuitive and more complex to navigate on a tablet-sized device.
Display Quality: A Head-to-Head Comparison
When it comes to displays, both Apple and Microsoft offer excellent visual experiences. The Retina display of the iPad is vivid and colors pop off the screen. It also has a high resolution which adds to the crispness of the display. The Surface Pro, on the other hand, features a higher pixel density which translates to sharper visuals. In terms of color accuracy, both devices perform well but Apple's True Tone Display has a slight edge that automatically adjusts color temperature for the best viewing experience in any lighting condition.
However, when it comes to screen size, the Surface Pro offers a larger display which can be more comfortable for certain tasks such as video editing or graphic design. Additionally, the Surface Pro's display is touch-sensitive and can be used with a stylus, making it a great option for artists and note-takers.
Another factor to consider is the aspect ratio of the displays. The iPad has a 4:3 aspect ratio which is better suited for reading and browsing the web, while the Surface Pro has a 3:2 aspect ratio which is better for productivity tasks such as writing and working with spreadsheets.
Performance and Speed: Which Tablet is Faster?
Performance and speed are significant factors to consider when choosing a tablet. Apple's iPad series, particularly the iPad Pro range, offers fast and smooth performance thanks to Apple's A-series processors built specifically for the iPad. The Surface Pro is powered by Intel Core processors, which perform similarly to laptop processors and make it more adept at handling heavier workloads. However, the operating system also plays a significant part, and we shall dive into that in detail in later sections
Another important factor to consider when it comes to performance and speed is the amount of RAM a tablet has. The more RAM a device has, the more apps and programs it can run simultaneously without slowing down. The iPad Pro range offers up to 6GB of RAM, while the Surface Pro can have up to 16GB of RAM, making it a better option for those who need to run multiple programs at once. It's important to consider your specific needs when it comes to performance and speed, and choose a tablet that can handle the tasks you need it to.
Battery Life: How Long Do They Last?
Battery life is an essential aspect of any mobile device. Apple's iPads offer excellent battery life, with the iPad lasting for over 10 hours on a single charge. The iPad Air lasts an impressive 12 hours, while the Pro models can last up to 15 hours. The Surface Pro, on the other hand, has a battery life of about ten hours, which is commendable but falls short compared to the iPad's battery longevity.
It's important to note that battery life can vary depending on usage and settings. For example, if you're using your iPad to stream videos or play games, the battery will drain faster than if you're just browsing the web or checking emails. Additionally, adjusting the brightness and turning off unnecessary features like Bluetooth can help extend the battery life of your device.
Price Comparison: Which Tablet Offers More Value for Money?
Price is always a significant concern when making a purchase decision. Apple's iPads have consistently been on the pricier side, with the iPad Air starting at $599, and the iPad Pro range starting at $799 for the 11-inch model. On the other end, Microsoft's Surface Pro devices range from $799 to $2,499 depending on the model type and specs. While Apple's iPads tend to be more expensive, the integration of Apple's ecosystem and the quality of the products can make it worth the investment.
However, it's important to note that there are other tablet options available that offer great value for money. For example, Samsung's Galaxy Tab S7 starts at $649, which is cheaper than the iPad Air. The Tab S7 also comes with a stylus and has a larger screen size compared to the iPad Air. Additionally, the Amazon Fire HD 10 tablet starts at just $149, making it a budget-friendly option for those who don't need all the bells and whistles of a high-end tablet.
When considering the value for money, it's also important to think about the longevity of the device. Apple's iPads tend to have a longer lifespan compared to other tablets, which means you may not need to replace it as frequently. On the other hand, Microsoft's Surface Pro devices are known for their versatility and can be used as both a tablet and a laptop, making it a great investment for those who need a device for both work and play.
Operating System Comparison: iOS vs Windows 10
Apple's iPads run on iOS, a mobile operating system designed explicitly for Apple devices which has been continually updated over the years. iOS includes intuitive features like swipe navigation, Siri, and a vast ecosystem of apps designed for its devices. On the other hand, Microsoft's Surface Pro runs on Windows 10, the full-fledged operating system that powers most desktops and laptops. While this means more versatility for the Surface Pro, it also requires more processing power for smooth functionality and longer battery life. iOS is optimized for the iPad which results in smoother performance and longer battery life compared to Windows.
Another significant difference between iOS and Windows 10 is the level of customization available to users. iOS is known for its simplicity and ease of use, but it also limits the amount of customization that users can do. On the other hand, Windows 10 offers a wide range of customization options, allowing users to personalize their devices to their liking. This includes changing the desktop background, customizing the taskbar, and even creating custom keyboard shortcuts.
When it comes to security, both iOS and Windows 10 have their strengths and weaknesses. iOS is known for its robust security features, including Touch ID and Face ID, which provide secure authentication for users. Windows 10, on the other hand, has a range of security features, including Windows Defender, which provides real-time protection against viruses and malware. However, Windows 10 is also known for its susceptibility to hacking and malware attacks, making it important for users to take extra precautions to protect their devices.
App Store Comparison: Which Has More Apps and Better Quality?
The App Store and Microsoft's Store both have vast collections of apps. However, the App Store has better quality apps that are designed to work well on the iPad. Microsoft's Store, on the other hand, has more versatile apps that are designed to work on both the Surface Pro and other Windows-based devices, providing more options to users. Nonetheless, Apple's app approval process ensures that all apps in the App Store are vetted and approved, which is a plus for ensuring security and preventing malware and viruses.
Productivity Features: Apple's iPadOS vs Microsoft's Surface Pro
Both Apple and Microsoft tablets offer productivity features that position them as laptop replacements. The iPadOS has multitasking features that let users work with multiple apps simultaneously. Apple Pencil and Magic Keyboard support further enhance productivity features. On the other hand, the Surface Pro's keyboard cover means better typing experiences for more extended periods. It has programs similar to Microsoft Office built-in, and it has the desktop software to run desktop-grade apps.
Gaming Capabilities: Which Tablet is Better for Gaming?
Gaming on mobile devices has grown in popularity in recent years, and both tablets offer excellent gaming experiences. Apple's iPad Pro offers great gaming performance thanks to its powerful A-series chips. The wide aspect ratio and Retina display provide an immersive experience that is enhanced when playing games that support AR. The Surface Pro also has solid gaming performance but is a bit bulkier and has a smaller display. However, the Surface Pro's compatibility with Xbox accessories and ability to run desktop apps makes it a better choice for Xbox and PC gaming compared to the iPad.
Camera and Audio Features: A Close Look at the Specs
Both tablets come with excellent camera and audio features. The Modern iPad Pro models have three camera arrays on the back and a LiDAR scanner that can improve the precision of augmented reality-based apps. The Surface Pro, on the other hand, offers decent camera features and has dual microphones for better audio quality during calls and presentations. Once again, the Apple ecosystem makes it a better choice for artists and videographers who require top-of-the-line cameras and video recording solutions.
User Interface: Which is More User-Friendly?
The user interface on the iPad is intuitive and straightforward to use, with the latest iPadOS software becoming more robust with each update. The Surface Pro may take a bit more time to get used to, particularly for users who aren't familiar with Windows, but once you've learned the nuances, both devices have a comparable user interface.
Support and Security Features: Apple vs Microsoft
Both Apple and Microsoft offer regular software updates for their devices, which ensure the devices retain their performance and stay secure. Apple's iPad comes with extra security features like Touch ID and Face ID, which are superior to the Surface Pro's facial recognition system. Apple also offers better customer support that is responsive and efficient. Microsoft's support varies, but they are known for their technical expertise.
Accessories Comparison: Keyboard, Pen, and Mouse Options
Both tablets offer a range of accessories that enhance the user experience. Apple's Magic Keyboard and Apple Pencil 2 are minimalist and stylish, while the Surface Pen and Type Cover provide a conventional laptop-style experience. Apple accessories tend to be more expensive but better integrated with the iPadOS ecosystem. Microsoft's accessories are more versatile, but their integration with the Surface Pro sometimes falls short in comparison to Apple's ecosystem.
Verdict and Conclusion: Which Tablet Reigns Supreme?
Both Apple and Microsoft tablets offer exceptional performance, features, and design. Choosing between the two comes down to personal needs and preferences. If you need a device for content creation, iPad is the better option, while the Surface Pro is better for content consumption and gaming. Apple's ecosystem is more integrated, while Microsoft offers more versatility. If you are familiar with Windows and require the full suite of desktop and laptop programs, the Surface Pro is the better tablet for you. In conclusion, both tablets are excellent devices, but the iPad is slightly ahead, especially for productivity purposes, thanks to the more optimized operating system and better app ecosystem.